Introduction To Hoarder House Cleaning
Let's firstly start this introduction by explaining the purpose of this article.
After all, you've found yourself on a rubbish removal website and you're probably wondering:
"How are these guys going to help with hoarder house cleaning?"
Well let me first start by saying that we come across hoarder scenarios on a regular basis and providing services to family members who have relatives suffering from hoarding is a job we take pride in.
We're not here to judge or condemn.
We're here to provide education, guidance and knowledge around what hoarding is, it's effects and how to tackle the clearing and cleaning process.
Even if you're not looking to hire a hoarder house cleaning service right now, my aim is to help you navigate the situation and to also re-assure you that no matter the circumstance you may be facing right now, there is a way out.
Chances are that someone you know is struggling with a hoarding problem and with that can bring mental and emotional challenges that you might feel overwhelmed by.
The complexities of hoarding can not be under-stated but also in the same breathe, the normality of this problem should be openly welcomed as it's not something to be ashamed of.
We all find different ways to cope with the curveballs that life throws at us.
It's what makes us human right?
Below is my interpretation of hoarding from what I have learned, seen and experienced.
Hoarding is an ongoing difficulty with throwing away or parting with possessions because you believe that you need to save them.
It can sometimes start off as a small habit and be barely noticeable in someone's life and then as time goes by, the constant acquiring of material possessions becomes a coping mechanism of sorts.
In my opinion, hoarding is different to simply collecting items. 
Hoarding is where there is some kind of a mental crutch being used by the obsessive un-willingness to let things go.
This can lead to large amounts of material goods cluttering a house to a point where it becomes unsafe, unhygienic and can often compromise a persons quality of life.
Hoarding can range in severity and during my time performing hoarder house cleaning services I've noticed that people who suffer from hoarding can often be reluctant to let go of what may seem inconsequential to us, but to them the item's can carry a strong attatchment.
As an example, when we arrive at someone's home to perform a hoarder house cleaning service, it's not uncommon to find large amounts of possessions piled up from floor to ceiling.
These possessions can range from books and magazines to toys, tools and everything in between.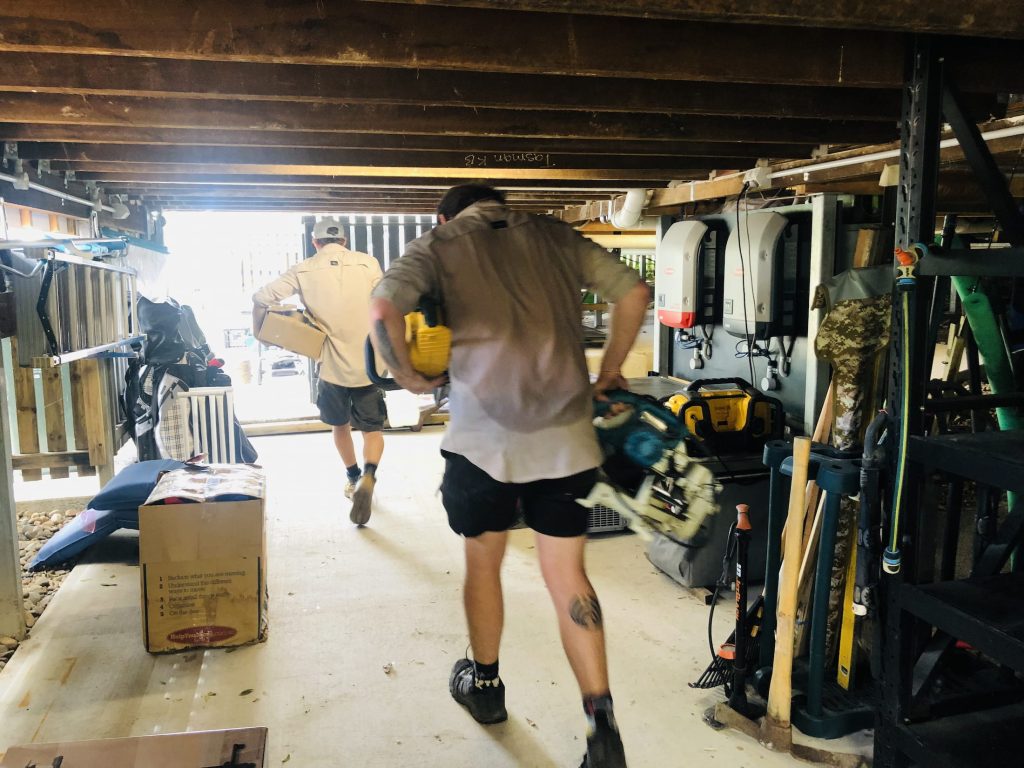 To the person suffering from a hoarding disorder it may not be apparent just how much risk they are putting themselves in.
From a pure health and safety perspective, having large amounts of contents can create trip hazards on the lower end of the risk spectrum.
Yet on the higher end of the risk spectrum, these excessive amounts of possessions can lead to blocking exits which during a potential fire can have devastating, and even fatal consequence.
But also, there's the health risks that aren't so obvious such as:
– Poor air quality due to the lack of space and sometimes the lack of ventilation that this can cause. This can lead to health challenges such as allergies and asthma. 
– Infestation of pests which can lead to the spread of disease. If there is a lack of sanitary cleaning happening within the home then it's common to see cockroaches, flies, mice and rats roaming the property. 
These pests can often leave droppings and create a very unsafe place for food preparation and consumption.
– Mold is something we come across fairly often when we are cleaning a hoarder house. 
When excessive clutter, waste, lack of air and moisture combine in someone's home then there is a strong chance that mold will be present.
– Bacteria that spreads from sources such as pet waste, rotting food and un-sanitary toilets can be a haven for the build of bugs that can cause health issues such as diarrhea and gastro.
The Challenges Of Cleaning A Hoarder House
The challenges involved with hoarder house cleaning should not be underestimated. 
The biggest hurdle you will probably have to overcome will be obtaining consent from the person living in the property.
If this person is a close friend or relative, this can often be the hardest of all tasks.
Once you have received consent you will first need to get organized and create a plan of action on how you are going to tackle the project and factor in:
– Timeframes and how quickly or slowly you will want to perform the clearance.
– Manpower and who will be involved in the clearing of items.
– Vehicles and transportation of waste.
– Health and safety equipment required.
– How you will dispose of the contents.
– Where will you dispose of the possessions.
– The cost involved and who is responsible for the financial concerns of the project.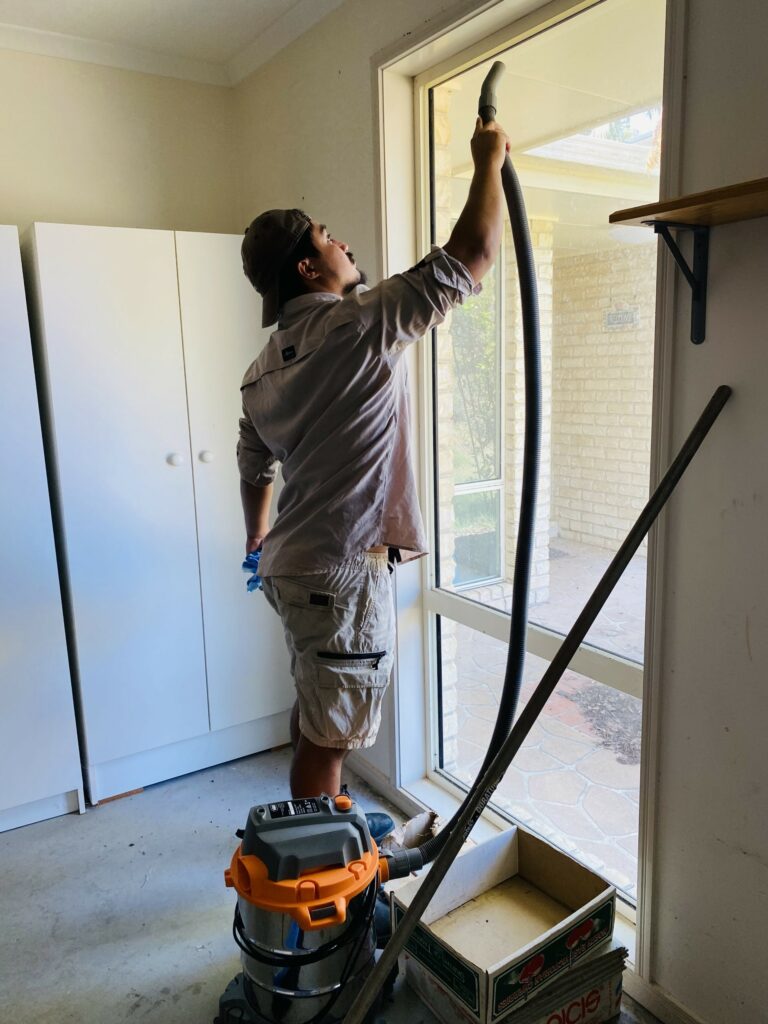 Understanding The Role Of Professionals
If you're facing the task of hoarder house cleaning then it's imperative that you understand you do not need to face this problem alone.
Simply trying to navigate this scenario with somebody suffering from hoarding can create obstacles that you may have not experienced before.
The person you are supporting may struggle to see their disorder and may feel like you are trying to impede on their beliefs so getting them onboard can be difficult.
You may have seen the problem develop over the years but have now reached a point where you are concerned for this persons safety.
There is no shame in seeking help for the people you care about and this can start with a simple visit to their GP to obtain a referral to a psychologist.
Be sure to try and obtain a referral to a psychologist who has experience with hoarding.
They may be able to offer such therapies at CBT which is cognitive behavioural therapy.
A GP may also be able to tie you in with other support services through the NDIS.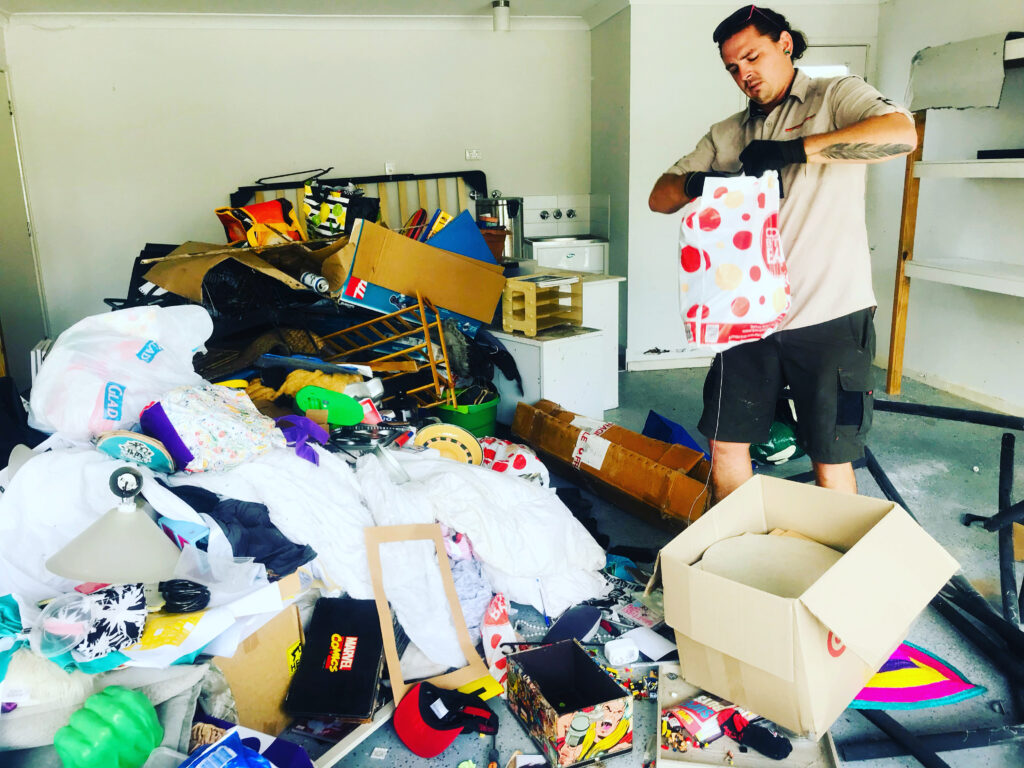 Expert Hoarder House Cleaning Services
If you've come to the conclusion you'd like to explore the option of hiring in some additional help then choosing an expert service is a wise move.
Below I've compiled a rough overview of how our process works when hiring our hoarder house cleaning service and how clearing the property works.
1) Firstly, once you've made contact with us via the quote form we will discuss with you your current situation, the relevant parties involved, any delicate information that may help navigate the clearance and try to gain a birds eye view on the scope of works to be completed.
2) The next step is to attend site with you to get a first hand look at the level of hoarding that has been identified. 
During this face to face assessment with you, we will seek to have a more in-depth discussion of your objectives and timeframes.
3) Once we have fully assessed the scope of works we will provide you with a formal written quote of the total or estimated cost involved for the entire job to be carried out. 
We will also discuss any timeframes, potential issues we may face and any other relevant information to help you make an informed decision.
4) Only after you have agreed to our written quote will we look to start performing the hoarder house cleaning service and this begins with us clearing the property of the contents. 
Typically the rubbish we remove ends up being processed at the local waste stations with an emphasis on recycling and donating where possible.
5) Once the clearing process has been completed we will then start to clean the property and remedy any areas of concern that were discussed during our consultation.
After the clearance and clean has been completed we will close off the work order and leave you to enjoy the benefits of knowing the property has been handled with care and compassion.
No judgement is ever condemned upon people suffering with mental health issues.
In fact, some of our staff members are no strangers to mental health concerns and have experience in supporting people of all walks of life.
Who We Are And How We Can Help
If you've explored your options and decide to seek assistance for help with clearing a hoarder house then below I've outlined just exactly who we are how we can help.
1) We're a family run business based on the Sunshine Coast that specializes in big clearance jobs for people in need of help.
2) We've been operating since 2020 and have created a large following of loyal customers who trust us to carry out their clearance projects and exceed expectations. 
We're proud to perform work for the Headspace organization. 
3) We run a tight knit team of professionals who take pride in their work and look to exceed customer expectations. 
We have a wide range of backgrounds and use that to our advantage to provide staggering results for our clients.
4) We like to collaborate with you. Since we all have different needs, our aim is to do a deep dive into your personal circumstance. 
No two people are the same and neither are any two clearance projects. 
By gathering intel on who you are and what you need, we can perform to a standard that creates positive outcomes for everyone.
5) We guarantee our work. If you're not happy with our service we will refund your money. 
The bottom line is, we want to do a good job. 
It may sound rudimental but we see a lot of trades and services doing the bare minimum. 
For us at Mango, the bare minimum is not in our vocabulary. 
We are striving to perform every aspect of any service we provide, to a very high level.
There's no easy way around it.
Hoarder house cleaning is a daunting task for anyone brave enough to even consider it.
But if daunting has become overwhelming and overwhelming has now become haunting then do yourself a favor and reach our for help.
It all starts with a casual chat over the phone via our contact page.
Cheers,
Jeremy
P.S If you or anyone around you needs mental health support you can reach out for advice over the phone with organizations such as Beyond Blue and Mind Spot.