Dealing with the aftermath of losing a loved one and having to navigate deceased estate rubbish removal can be emotionally and physically exhausting.
Beyond the grief and loss, there are practical considerations to tackle, and one of the most daunting tasks is handling the removal of rubbish and unwanted items from your loved ones property.
But fear not, because I'm here to simplify the process and ease your burden.
Whether you are a family member, executor, or property manager, the goal of this article is to help make the process as seamless as possible for you.
We pride ourselves on our attention to detail, reliability, and ensuring a stress-free experience for our clients so hopefully this post can help do the same for you.
Understanding Deceased Estate Rubbish Removal
Deceased estate rubbish removal involves the clearing out of a property and disposing of unwanted items after the passing of a loved one.
It is a crucial step in the process of settling the estate and preparing the property for sale or transfer.
The task itself can be overwhelming, as it often involves dealing with a large volume of belongings accumulated over a lifetime and whether you've experienced a sudden loss or you knew the loss was coming, nothing changes the fact that you are now facing a variety of tasks in a confronting arena.
The Challenges Of Dealing With Deceased Estate Rubbish Removal
The task of deceased estate rubbish removal comes with its own set of common but also unique types of challenges.
Firstly, the emotional aspect of going through a loved one's belongings can be difficult, time-consuming and very confronting.
It can often bring up soft warm memories but also can lead to sadness and sorrow as you come to terms with the inevitable fact that this person special person is never coming back.
Additionally, if you are family members are carrying out the clearance yourself then the physical labour involved in lifting and moving heavy items can be exhausting, especially if you already struggling with the emotional strain of the situation.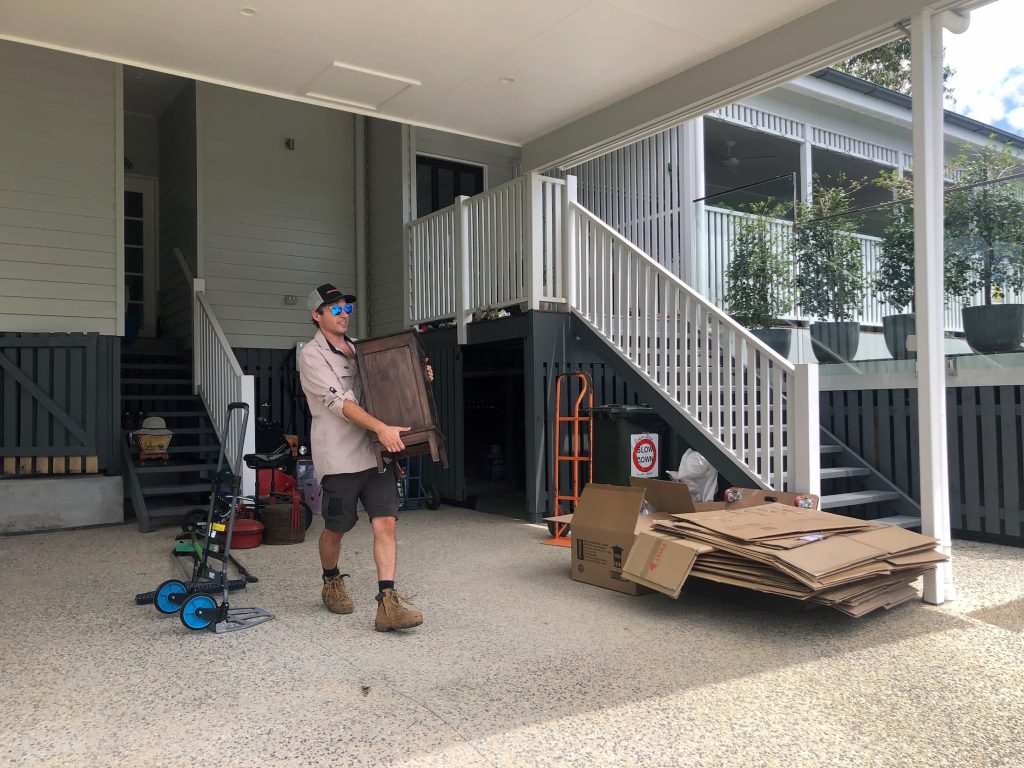 Importance Of Proper Rubbish Removal From A Deceased Estate
Proper rubbish removal in a deceased estate is essential for several reasons.
Firstly, it ensures the property is clean and ready for sale or transfer which is a no brainer of course.
Potential buyers who are looking at your property on the market are going to be more inclined to putting in an offer on the property if its cleared and cleaned rather than them coming to an open home full of contents that they'll need to clear themselves.
Secondly, disposing of rubbish responsibly helps protect the environment.
By recycling, donating, or disposing of items correctly, you can reduce waste and minimize the impact on the planet.
Lastly, proper rubbish removal can provide closure for family members, allowing them to move forward and focus on the healing process and other legal matters that may need attending to.
Steps To Simplify The Clearance
To simplify the deceased estate rubbish removal process, it is important to break it down into manageable steps.
By following these steps, you can ensure a smooth and stress-free experience but remember that the entire process can be quite fluid and is always unique to you and your family so leave your expectations at the door.
Sorting And Categorizing Items For Disposal
Start by sorting through the belongings and categorizing them into different groups.
Create categories for items to keep, donate, sell, or dispose of.
This process can be challenging, especially if you are in your childhood home so take your time and involve other family members or friends for support.
Remember to consider sentimental value, practicality, and the condition of the items when making decisions and don't let others dictate your choices based on their emotions.
Hiring Professional Rubbish Removal Services
Consider hiring a professional rubbish removal service to handle the heavy lifting and disposal of unwanted items.
A professional team have the expertise and equipment to efficiently remove and dispose of rubbish safely. This can save you time, effort, and the stress of dealing with the logistics of rubbish removal.
The only reason you're probably considering doing it yourself is because you want to save money right?
But after you've considered all the time, energy and physical labour involved, you may be a bit better off in the wallet but a lot worse off with the backache you'll go home with at the end of it all.
Donating Or Selling Usable Items
For items that are still in good condition but no longer needed, consider donating or selling them to The Salvation Army or Vinnies. 
Donating to local charities or organizations can benefit others in need and contribute to a greater cause.
Even though were on the Sunshine Coast, the cost-of-living crisis affects everyone and donating goods means you're benefiting the local community.
Selling items through online platforms such as Gumtree or Marketplace or garage sales can also help you recoup some value from the deceased estate while ensuring the items find a new home.
Just remember though, dealing with tyre kickers online for the sake of a $20 item may not be worth the headache at this point in your life.
Aim for selling the kind of items that are easy to sell and can fetch at least $150 such as TV's, sofas and fridges.
Disposing Of Hazardous Waste
It is crucial to handle hazardous materials, such as chemicals, paints, or batteries, with care. These items should never be thrown in the regular trash or just dumped into landfill.
Quite often these items will be found in sheds and garages.
The local Sunshine Coast tips have specific areas to dispose of things like paints, oils, chemicals, and batteries.
If you're unsure, then speak to one of the staff. 
Just be aware though, the local tips do not accept fuels or asbestos.
Dealing With Sentimental Items
Sentimental items can be the most challenging to deal with during deceased estate rubbish removal.
Consider creating a memory box or keeping a few select items that hold special meaning.
If possible, involve other family members in the decision-making process to ensure everyone's feelings are respected.
Remember, it's okay to let go of some items and preserve memories in other ways, such as photographs or stories.
Dealing with rubbish removal in a deceased estate is an important step in the grieving and healing process and helping to create a sale ready property.
By following the steps outlined above and seeking professional assistance when needed, you can simplify the process and ease your burden.
Remember to take the time you need to make decisions, involve others for support, and prioritize self-care during this emotionally challenging time.
At Mango Rubbish Removal, we are here to provide compassionate and efficient deceased estate rubbish removal services, allowing you to focus on what truly matters.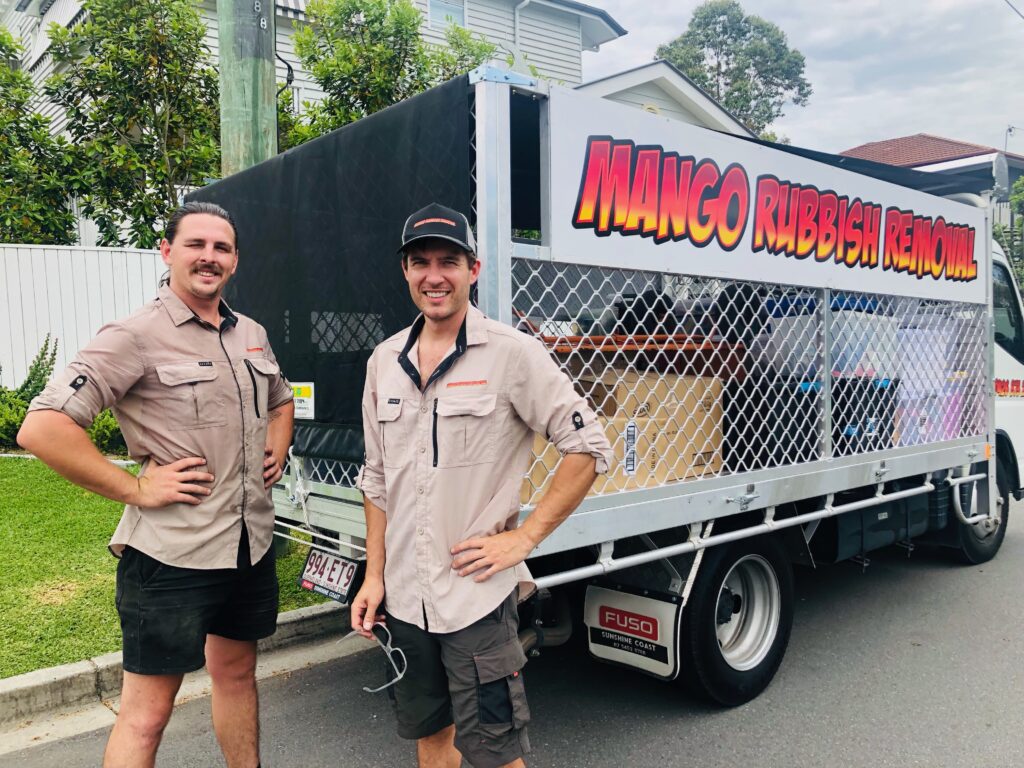 A Quick Plug For Our Services (If You Feel You Might Need A Hand)
When it comes to deceased estate rubbish removal, we're the company that's rated number one on Google by locals and we're proud to have clocked up over 260 five star reviews.
Our commitment to customer satisfaction means that we go above and beyond to ensure your needs are met.
We understand that dealing with a deceased estate is a sensitive and emotional time, and we strive to provide a compassionate and respectful service.
You can rely on our team to handle the rubbish removal with care and professionalism, allowing you to focus on what matters most.
Whether you are a family member, executor, or property manager, our goal is to make the process as seamless as possible.
We pride ourselves on our attention to detail, reliability, and ensuring a stress-free experience for our clients.
If you're unsure we're a good fit for your needs, then feel free to get in touch via the contact page so we can have a chat and I can listen to your needs and provide answers to any questions you may have.
My goal is to work with you to understand your desired outcomes, tailor the necessary services to your requirements and ultimately, help you find closure.
If this is something you like the sound of then please don't struggle alone and reach out to me here.
Cheers,
Jeremy