Lets be honest, it can definitely be said that us Sunny Coast locals are privileged to live in such a beautiful part of the world.
But with that privilege comes the responsibility of looking after the space we live in and the environment that surrounds us.
For obvious reasons we'd all like to maintain a tidy home for ourselves and our families, not just for aesthetic reasons but simply because a tidy home helps us function just that little bit more effectively in our everyday lives.
So to help tackle the task of keeping things tidy and disposing of any rubbish that needs to be chucked out, here's 5 top notch tips for effective rubbish removal Sunshine Coast.
1. Plan Ahead
Before you start the task of throwing things out simply take a moment to make a plan to tackle the task ahead in the most effective way possible.
As a close friend of mine always says remember the 5 P's which are:
"prior planning prevents poor performance"
Start by determining which parts of the house you're going to clear out and decide on where would be most effective to start first.
Is it just a small shed that needs a good sort out? Or is it just the garage that needs clearing? Or now that you come to think of it… does the the entire house need a big clear out?
Try to establish your priorities and timeframes to manage the task as diligently as possible so you don't end up getting overwhelmed.
Also, another handy tip is to assess if there may be any larger, heavy items that may need an extra pair of hands.
Items like fridges, mattresses, couch's and cabinets can be dangerous to try and maneuver by yourself and you could risk injury so plan to get a helping hand if necessary.
2. Categorize
Once you have a plan of how you're going to manage the rubbish to be removed it's time to start categorizing the junk into appropriate groups to help with means of disposal.
Some simple categories to assort your junk into may be:
Household mixed waste
Green garden waste
White goods
Paints and toxic chemicals
Scrap metals
Donatable goods in working order
Items to give to friends or family
It may sound really simple but it's amazing how many times we arrive at properties to carry out rubbish removal and find a whole lot of junk just scattered in random piles in various places around the home.
It can often cause confusion as it gets tricky trying to decide what should be dumped, recycled, donated or kept.
The last thing you want when tackling rubbish to be removed at your home is to end up dumping something valuable because once it's gone in the landfill, it's gone forever.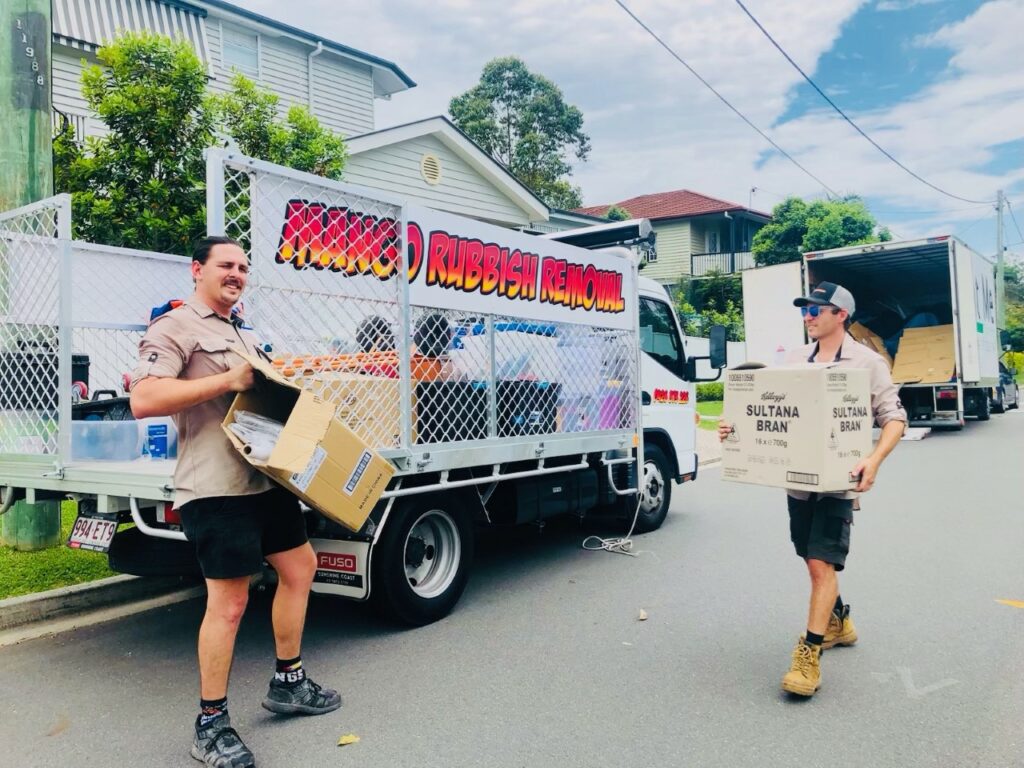 3. Logistics and Transportation
Once you've made a plan and categorized your junk, you're pretty much half way there in your clear up process.
The next thing you need to think of is how you're going to transport your rubbish to where it needs to go.
If you don't have access to a decent size truck you may need to consider hiring a vehicle from somewhere like Hertz, Budget or Avis.
Here's a few transportation options to consider:
Car with a trailer
Ute with a trailer
Small box truck
Large van
The vehicle you'll need to hire will be dependent on the volume of rubbish that you're dumping so make sure you do your research to find the appropriate vehicle.
The last thing you want is to be doing 3 or 4 runs to the tip in a Ute when you could have knocked it over with one big load in a box truck.
If you do decide to hire a vehicle then make sure you factor in the time going to hire the vehicle, fueling the vehicle, insurance and your km limit.
4. Comply With Sunshine Coast Council Regulations
Once you've made a plan, categorized your junk and decided on an appropriate means of transport, it's important not to forget the significance of following local council regulations in regards to disposal of junk at the tip.
Across the Sunshine Coast you'll find waste station's at the following locations:
Buderim
Caloundra
Nambour
Noosa
Beerwah
Mapleton
Kenilworth
Yandina
Witta
When you arrive at your local tip it's important that all you waste goes into the appropriate bins or containers.
Typically there will be various places to deposit your rubbish depending on what it's largely made up of.
For example, general waste such as carpets, bed frames and cushions may go into the mixed waste bin but items which are made up largely of metal such as washing machines, bikes and fridges will go into the scrap metal pile.
The guys at the tip can get super cranky if you're putting a load of metal in the general waste section and what's worse is, you could potentially face a hefty fine for wrongful disposal.
If you're unsure then ask one of the staff for direction.
If you've got some items you think could be donated to charity then you'll find some waste stations will have recovery resource center's attached to them which is super handy for any donatable goods.
If you are looking to donate any good quality items at these places then speak to the friendly staff who will assess the goods and decide if they can be re-sold.
Be aware though, it is getting more difficult to donate goods due to the sheer volume of items these establishments receive from the general public.
Just ensure the goods are in good, clean condition and would have resale value.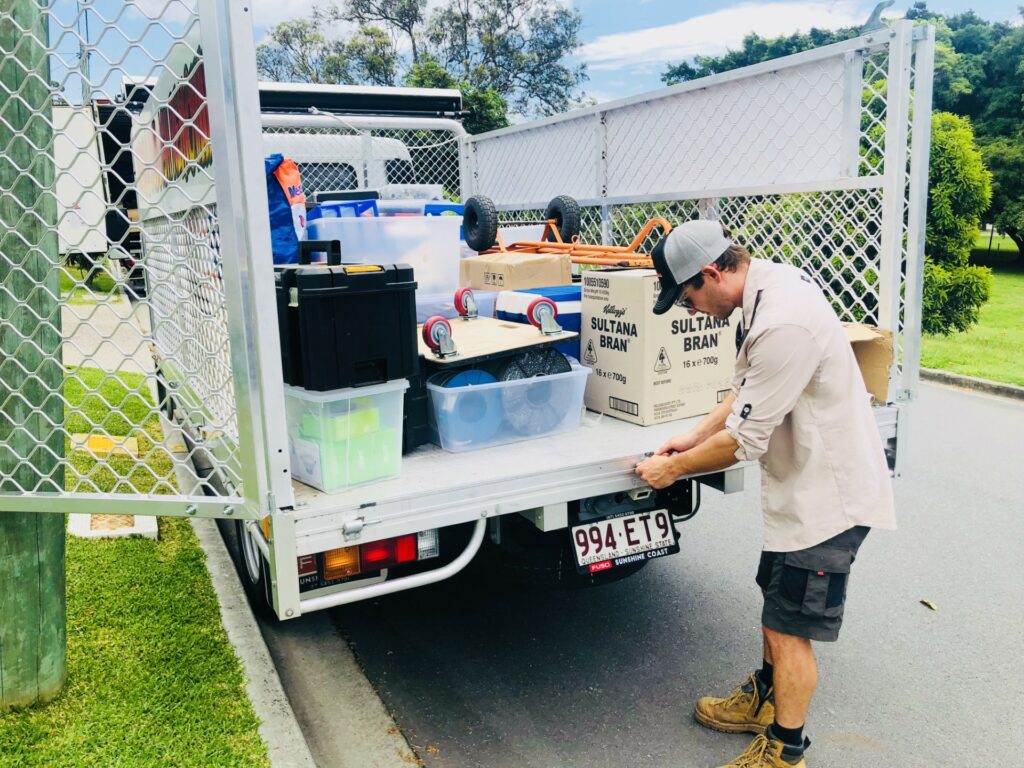 5. Hire A Professional Rubbish Removal Service
I couldn't write this list for effective rubbish removal without adding in the benefits of hiring a decent rubbish removal service now could I?
Don't get me wrong, handling your own clear up will potentially save you a bit of money but in the long run it will cost you time, energy and dare I say it, a trip to the chiro!
Here at Mango Rubbish Removal we have the necessary vehicles, man power, equipment and experience to handle pretty much any junk removal requirements our customers may have and believe me, we've seen it all!
What might take you an entire day or two to go and hire vehicles, trailers and go back and forth to the tip to dump multiple loads is something we can get sorted in a matter of hours.
We tackle big and small clear-out's alike and have the necessary means of disposing of your junk quickly, effectively and responsibly.
But do yourself a favor and don't just take my word for it.
Just take a look at the 240+ five star Google reviews we've tallied up over the years from Sunshine Coast locals who trust us to handle their rubbish removal needs.
Conclusion
Now that you've got an idea of what's involved in tackling your clear up, go ahead and start planning your most effective course of action to get the job done effectively.
But if the idea of hauling junk into a rental Ute all weekend sounds as much fun as root canal from an angry dentist then let the pro's manage it for you and head over to our contact page and request your obligation free quote.
I look forward to chatting with you.
Jeremy